Today, there are innumerable types of materials available for furniture, like ceramic, marble, and wooden strips. From all these thousands of materials, individuals prefer furniture materials such as wooden strips. Why? Because of its durability and versatile design collection. Moreover, you'll find maintaining wooden strip furniture much easier compared to other types of materials.
Easy? But how do you know that?
Well, it's just a misconception that cleaning and maintaining wooden strip furniture is difficult. But you need to wake up. It is not at all difficult if done with proper tactics. And, today, you'll know how the maintenance of wooden strip furniture is easy compared to all different types of furniture.
Tips For Maintaining Your Wooden Furniture
Who doesn't like to have proper care and attention? Everyone loves it, and so does your wooden furniture. If not maintained properly, it will start losing its lustrous shine and give an unhealthy look to your space.
Imagine some guests visiting your space. Will such dull and uncleaned furniture leave a good impression on them? Definitely not. So, to save yourself from such embarrassment, follow my tips to maintain clean and healthy wooden strips of furniture for your space.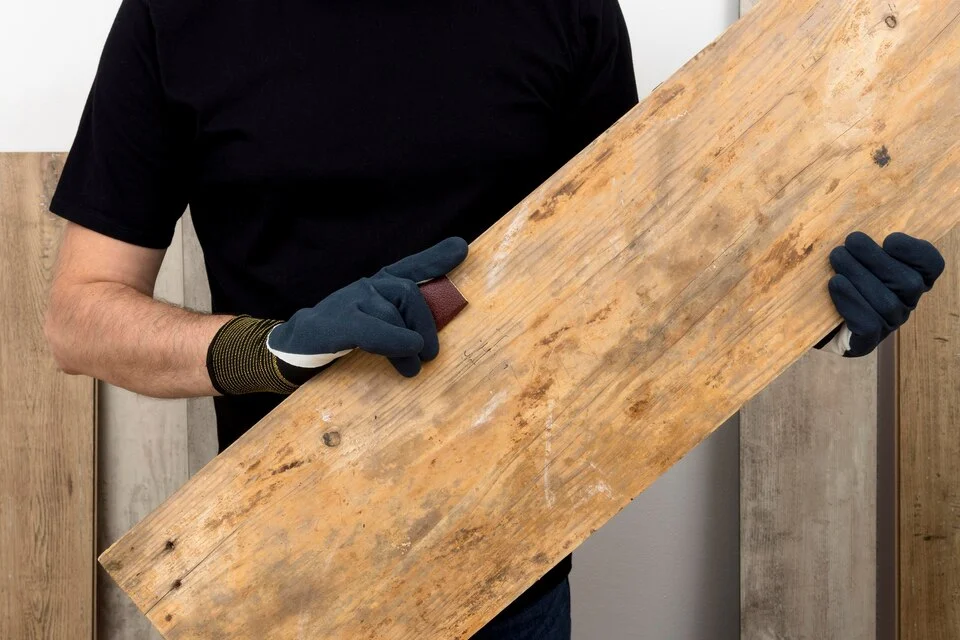 1. Dust regularly with a soft cloth
The first thing I always recommend for maintaining wooden furniture is to clean it regularly, no matter what. Regular cleaning will prevent all kinds of dirt and dust from having an attachment to your wooden strip furniture.
In my opinion, you should always clean your wooden furniture with a soft cotton cloth because the use of hard clothes can create scratches on your furniture that would just make your cleaning task more cumbersome.
But, there is one small hurdle. What about the out-of-reach corners? They also need cleaning. So, what's the best way to clean them? It's simple, you can use the mop sticks and wipers for such areas. Easy, right? But make sure your bought mop sticks have soft material. Mops with hard material might damage your wooden strips.
So, whatever the situation, never forget to clean your furniture.
2. Avoid soaking the wood with water during cleaning
While cleaning, you need to take care of one thing: you do not have any normal type of furniture like ceramic. It is wooden furniture. Immoderate use of water is not healthy for your wooden furniture. It will just damage your wooden strips with cracks and swellings. Will you afford such damage to your property? Not at all.
It is not at all suggested not to use water for cleaning. You should definitely use water for cleaning your wooden stuff. Without water, it is not possible to remove the dirt and dust. But, you should use it in a moderate amount. That's it!
Also, you need not make your cleaning cloth too wet with water. This will also damage the health of your furniture.
So, clean your wooden strip furniture using limited water in a wise manner.
3. Use a mild soap solution and a soft cloth to wipe down the furniture
Moving further in the cleaning process, now you need to know with which things you are going to clean your wooden furniture. Will only water be sufficient for cleaning your wooden space? Definitely not.
You don't only have to clean your furniture, you have to make it healthy too. So, you need to create a mixture of mild soap and water. This mixture will remove all kinds of dirt and even germs from your wooden strips, creating a healthy space to live in for you and your family.
Now, how to use the prepared mixture? You simply need to take a clean cotton cloth or mop and rinse it thoroughly in the solution. But wait! You need to make sure that you squeeze all the water from the mop perfectly. Now, with a moderately wet cotton mop, you are ready to clean and shine the wooden strips of your furniture.
4. Apply furniture polish occasionally for added protection and shine
We all know that every product, whether it is ceramic or wooden, loses its shine with time. But that doesn't mean that you can't bring that shine back. Of course, you can do it. A perfect wood polish can help you in reshining your wooden furniture.
Now, how to apply the wood polish? It is obvious that you cannot apply the wood polish on a dirty surface. You have to clean your wooden surface with no doubts. Then, the next thing you need to do is to take a clean cotton cloth or a brush and apply a small amount of polish on it.
Then, wipe the cloth or brush on your furniture. Slowly and steadily, you will be able to shine your wooden strips furniture. You just need to follow this tactic once a month to achieve astounding results. So, you can see how wood polish can bring back your furniture's natural beauty of wood.
5. Keep your furniture out of direct sunlight and away from heat sources to prevent damage
Many times, it is the case where, despite regular cleaning and maintenance, your wooden strip furniture might be becoming dull and damaged. You might question yourself: Why is it happening so? Well, such a situation can prevail only if you have allowed your wooden furniture to direct sun exposure.
Now, you might itch your head, wondering how it can happen. Well, that's a fact that wood is very sensitive to heat exposure, just like us. So, just as we apply heat protectants to protect ourselves from heat damage, you need to protect your wooden furniture, too. It doesn't mean you need to apply heat protection to your furniture. No!
You just simply need to place your wooden furniture away from the windows. And, even if you do not have any other place except the windows, cover your windows with curtains. It's as simple as that.
In short, you should always prevent your wooden furniture from coming in direct contact with sunlight.
Expert's Advice
Now, besides these 5 golden tactics, I also want to give some additional tactics that will help you in being extra careful. First, whenever you need to shift your wooden furniture, always try to cushion it with soft pillows and thermocol sheets to save it from getting hurt.
Secondly, if you have any pets, then you need to immediately swipe their fallen fur regularly to prevent your wooden space from getting dirty. Finally, I would always advise you to always keep a wood filler at your home. Wood fillers play a creative role in filling any kind of scratches or dents(if any) in your wooden furniture.
So, you just need to shower some care and attention on your wooden strip furniture with my 5 golden tactics. And your wooden strip furniture will always shine like a twinkling star.
Last but not least, WE8 International has been serving the wooden furniture industry for 20 years. So, if you are in search of highly durable and aesthetic wooden strip furniture, you can ping us an email at info@we8international.com, or you can even call us at +91 97263 26301.
---
Article Last Updated: 20th March, 2023
---